Eat What You Want Day, 11 May 2018
 Eat What You Want Day!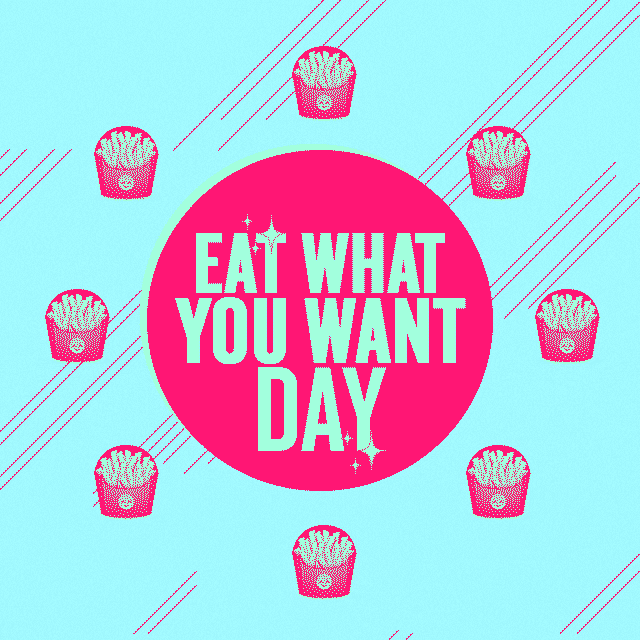 Eat what you want day – a day that is dedicated to eating what you want, as much as you want, however you want and where you want!
It's a day where you can take a break from your healthy eating regime and enjoy all those tasty foods that you love but can't eat because they're not particularly healthy. Why is it that the food that often tastes so damn good is often always bad for us?
Have you been itching to rip open those chocolate biscuits and divulge yourself in some chocolaty goodness? Or give in to that temptation of making fries instead of mash when peeling those potatoes? Or how about wanting to order a large pizza with all the toppings instead of a salad? May 11th is the day to give in to all those cravings and enjoy some tasty treats guilt free!
In today's society, it seems diets, healthy eating and strict eating regimes has become a thing of the norm! People want to improve their health, stay or get in shape or get their body ready for Summer. It's time to take a break from all the hard work and enjoy one day of eating whatever you like!
Eat at the Viva Vegas Diner…
Want to go 'all out' on May 11th and indulge in some delicious, mouth-watering food? Then get yourself down to our Diner because we are serving up the highest quality and tastiest American classics.
Viva Vegas Burger, Bert's Delicious Dogs and our signature Pizza Fries are just a few of our awesome customer favourite dishes!
Anyway, we can already hear that your stomach is starting to rumble from all this food talk! So, mark your calendars, make a reservation and look forward to enjoying a guilt-free food sesh!